Category:
Entertainment
North Fulton County has a wealth of entertainment options for families. Explore everything from symphony performances and arts festivals to museums exhibitions and hiking trails. Below are just some of the family attractions North Fulton has to offer, along with websites for more information.
Abernathy Arts Center
www.fultonarts.org
(404) 612-5780
AAC is the county's oldest neighborhood arts center and offers day and evening classes for both children and adults.
Andretti Indoor Karting and Games
andrettikarting.com
(770) 992-5688
Enjoy go-karts, food and games at this facility named after racing legend Mario Andretti.
Autrey Mill Nature Preserve & Heritage Center 
www.autreymill.org
(678) 366-3511
The preserve includes 46 acres of ravine forest as well as 2 miles of walking trails and a Heritage Village that recreates life in the 19th century.
Barrington Hall
www.barringtonhall.net
(770) 640-385
Located just off Roswell Square, this 19th century home features the metro area's only antebellum garden.
Bulloch Hall
www.bullochhall.org
(770) 992-1731
This antebellum home is best known as the location of the marriage of Mittie Bulloch and Theodore Roosevelt, the parents of future U.S. President Teddy Roosevelt.
Chattahoochee Nature Center
www.chattnaturecenter.org
(770) 992-2055
The metro area's largest nature center features a butterfly garden, native plant garden and a green room garden in addition to children's programming and hiking trails.
Chukkar Farm Polo Club
chukkarfarmpoloclub.com
(770) 664-1733
This family-run business boasts 173 acres of pastures and woods and hosts polo events throughout the year.
Georgia Ensemble Theater
www.get.org
(770) 641-1260
Open since 1993, this ensemble is the resident professional theater at the Roswell Cultural Arts Center.
Heritage Green
www.heritagesandysprings.org
(404) 851-9111
This sprawling complex includes gardens, a nature walk and an entertainment lawn, as well as the Williams-Payne House which houses the Heritage Sandy Springs Museum.
Johns Creek Arts Center
www.johnscreekarts.org
(770) 623-8448
This non-profit arts center's mission is to "inspire artistic development for youth and adults by embracing community and corporate relationships that stimulate creative growth and opportunity."
Johns Creek Symphony Orchestra
www.johnscreeksymphony.org
(678) 748-5802
Comprised of professional musicians from across the metro area, the symphony is under the direction of founder J. Wayne Baughman.
Roswell Cultural Art Center
www.roswellcac.com
(770) 594-6232
Featuring a 600-seat theatre as well as meeting rooms, exhibits halls and a research library, and hosts events from puppet shows to corporate meetings.
Roswell Mills and Old Mill Park
www.georgiatrails.com
Visitors to this historic site can see the remains of Roswell's cotton mills and tours tell the story of the "Lost Workers of Roswell," who were charged with treason and sent north during the Civil War.
Smith Plantation
www.archibaldsmithplantation.org
(770) 641-3978
The perfectly preserved home of one of Roswell's founding fathers includes a two-story farm house, outbuildings, slave quarters, barn and carriage house.
Verizon Wireless Amphitheatre at Encore Park 
www.vzwamp.com
(404) 733-5010
Open since 2008, this 12,000-seat amphitheatre hosts a wide range of concerts and, during the summer months, is home to the Atlanta Symphony Orchestra.

Cobb County has a wealth of entertainment options for families. Explore everything from opera performances and arts festivals to museums exhibitions and hiking trails. Below are just some of the family attractions Cobb County has to offer, along with websites for more information.
Cobb Energy Performing Arts Centre
www.cobbenergycentre.com
(770) 916-2800
The 2,750-seat venue hosts Broadway shows, ballet, concerts, educational shows, family performances and the Atlanta Opera.
Earl Smith Strand Theatre
www.earlsmithstrand.org
(770) 293-0080
This renovated 1935 Art Deco theater located on Marietta Square has a full calendar of movie screenings, concerts and other performances.
The Georgia Ballet
www.georgiaballet.org
(770) 528-0881
In addition to their performances at the Marietta Performing Arts Center, this troupe operates a dance school for children and provides field trip performances for area students.
Georgia Symphony Orchestra
www.georgiasymphony.org
(770) 429-7016
Founded in 1951 and now under the direction of Michael Alexander, the GSO attracts talented musicians from all over the metro area for its annual performances.
Gone With the Wind Museum
www.gwtwmarietta.com
(770) 794-5576
This museum opened on the Marietta Square in 2003 and boasts an extensive collection of memorabilia from the famed book and movie, including scripts and costumes.
Kennesaw Mountain National Battlefield Park
www.nps.gov/kemo
(770) 427-4686
Relive one of the key battles of the Civil War's Atlanta Campaign at this 2,923-acre battlefield.
Mable House Arts Center
www.mablehouse.org
(770) 819-7765
From children's music classes to tours of the historic house and a free summer concert series, this Mableton arts complex has something for everyone.
Marietta/Cobb Museum of Art
www.mariettacobbartmuseum.org
(770) 528-1444
As the only art museum in the metro area to focus on American art, the MCMA has cultivated an impressive collection of pieces from the 18th century to the present.
Marietta Museum of History
www.mariettahistory.org
(770) 794-5710
This museum makes its home in a 19th century cotton warehouse that also served as a hospital during the Civil War. Its recently opened Aviation Wing brings the area's aviation history to life.
Mountasia Family Fun Center
www.mountasia.com/site/marietta
(770) 422-3440
Engage in some friendly competition at this recreational complex that includes go karts, mini golf and an arcade.
The Root House Museum
www.cobblandmarks.com/root-house
(770) 426-4982
The Cobb Landmarks and Historical Society operates this Greek Revival house that originally belonged to one of Marietta's first druggists.
Silver Comet Trail
www.silvercometga.com
(404) 875-7284
From the trailhead in Smyrna, this 61.5-mile paved trail created from abandoned railway lines extends all the way to the Georgia/Alabama state line.
Six Flags Over Georgia
www.sixflags.com/overgeorgia
(770) 739-3400
A state-of-the-art theme park with more than 100 rides, shows and attractions.
Six Flags White Water
www.sixflags.com/whitewater
(70) 948-9290
Take the edge off the summer heat at this waterslide amusement park. Enjoy body slides, tube slides and a lazy river that winds its way around the park.
Smith-Gilbert Gardens
www.smithgilbertgardens.com
(770) 919-0248
Boasting more than 3,000 species of plants, this garden is an impressive blend of art and horticulture.
Southern Museum of Civil War and Locomotive History
www.southernmuseum.org
(770) 427-2117
Learn all about Cobb County's role in some of the region's most important transportation and commerce railway lines.
Zuckerman Museum of Art, Kennesaw State University
zuckerman.kennesaw.edu
(770) 499-3223
Housed within KSU's Department of Museums, Archives and Rare Books, this museum displays works from the university's permanent collection as well as contemporary work from local and national artists.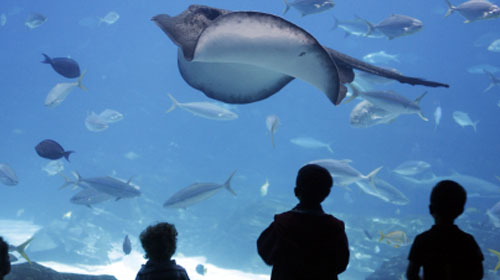 Entertaining shows and activities for families of varying interests are provided in Atlanta for all to enjoy. Families can have educational experiences on a tour of one of Atlanta's studios or factories, cultural explorations at a festival or theatre, and outdoor adventures at a park or zoo. Below are some of the major family attractions in Atlanta and websites to find out more information.
Amicalola Falls State Park
(706) 265-4703
Atlanta Botanical Garden
www.atlantabotanicalgarden.org
(404) 876-5859
Atlanta History Center
(404) 814-4000
Atlantic Station
(404) 733-1221
Cagle's Dairy Farm
(770) 345-5591
Callaway Gardens
(800) 225-5292
Centennial Olympic Park
(404) 223-4412
Center for Puppetry Arts
(404) 873-3391
Chattahoochee Nature Center
(770) 992-2055
CNN Studio Tour
(404) 827-2300
Fernbank Museum of Natural History and IMAX Theatre
(404) 929-6300
The Foam Factory
(770) 424-9283
Georgia Aquarium
(404) 581-400
Georgia Renaissance Festival
(770) 964-8575
Georgia World Congress Center
(404) 223-4000
High Museum of Art
(404) 733-4444
Imagine It! The Children's Museum of Atlanta
www.childrensmuseumatlanta.org
(404)659-KIDS [5437]
Jimmy Carter Library and Museum
(404) 865-7100
Kangaroo Conservation Center
(706) 265-6100
Lake Lanier Islands
(770) 945-8787
Marietta Theatre in the Square
(770) 422-8369
Margaret Mitchell House
(404) 249-7015
Medieval Times
1-866-543-9637
Off Broadway Dance Children's Theatre
(770) 664-2410
Piedmont Park
Red Door Playhouse
(770) 649-9994
Roswell Ghost Tour
(770) 649-9922
Six Flags Over Georgia
(770) 948-9290
Stone Mountain Park
(770) 498-5690
Tanglewood Farm
www.tanglewoodfarmminiatures.com
(770) 667-6464
Underground Atlanta
(404) 523-2311
WhirleyBall Atlanta
(770) 998-6161
Whole World Improv Theater
(404) 817-7529
World of Coca-Cola Tour
(404) 676-5151
Yellow River Game Ranch
(770) 972-6642
Zoo Atlanta
(404) 624-9453